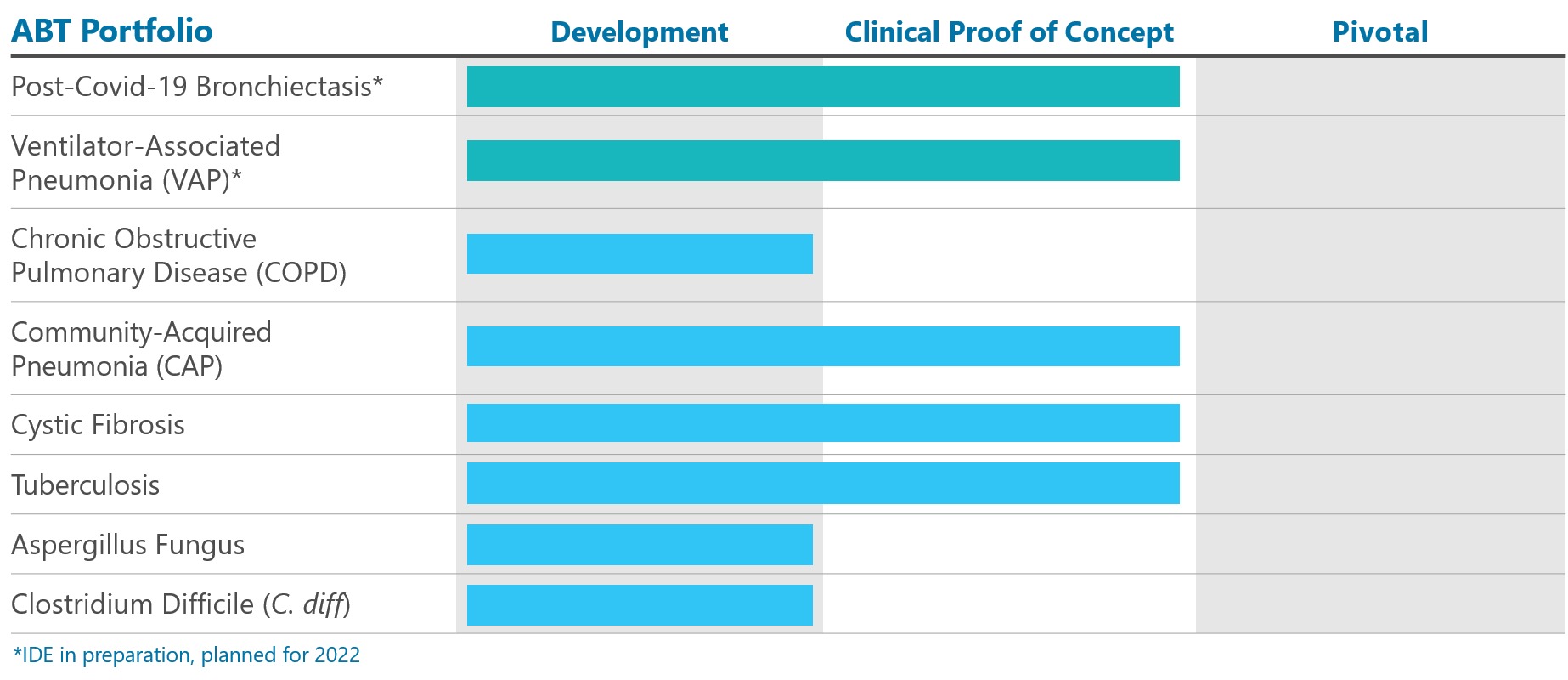 The Allora BreathTest
The Allora BreathTest (ABT) is an ultra-rapid, point-of-care biomarker breath test for the detection and monitoring of bacterial load without the need to collect and culture sputum or other biological samples. The ABT may overcome the limitations of current tests in terms of speed, accuracy and ease of administration and is designed to mitigate the overuse of broad-spectrum antibiotics. The ABT is first being developed for Post-COVID-19 "long haulers," who can develop acute respiratory disease, and for ventilator-associated pneumonia (VAP), an indication with high morbidity and mortality.
Previous Clinical Studies
Cystic Fibrosis (CF): A collaboration with the University of New Mexico (UNM) to conduct a proof-of-concept study in human subjects to determine whether inhalation of 13C-urea can be safely used to detect the presence of urease producing bacteria in the lungs. The study cohort consisted of three subjects with cystic fibrosis and known to be colonized with P. aeruginosa but otherwise healthy, and three healthy control subjects. The study subjects were administered nebulized 20 mg and 50 mg doses of 13C-urea on different days and the resulting exhaled δ13CO2 (DOB) was measured at 5, 10 and 15 minutes after completion of the dose. Both doses of the nebulized 13C-urea were well tolerated by all study subjects and there were no adverse events. The CF subjects colonized with P. aeruginosa had significantly higher DOB levels than the controls at both the 5 and 10 minute breath collection time points and the 50 mg dose of 13C-urea produced better separation between the groups. Details of this study can be found in a recent journal article (H. Raissy, G. Timmins, L Davies, T. Heynekamp, M. Harkins, Z. Sharp, H. W. Kelly, A Proof of Concept Study to Detect Urease Producing Bacteria in Lungs Using Aerosolized 13C Urea. Pediatric Allergy, Immunology, and Pulmonary, 29:68-73, 2016).
Pneumonia in the Emergency Department (CAP): A collaboration with the Emergency Departments at the University of New Mexico and Henry Ford Hospital which conducted an investigator sponsored pilot evaluation of an inhaled 13C-urea breath test in the identification of urease positive bacteria in patients diagnosed with pneumonia in the emergency department (ED). This study enrolled 75 adult male and female subjects.
Adult subjects were screened for participation in two cohorts that were enrolled sequentially. Cohort A, a safety evaluation of the inhaled Urea 13C-urea breath test, enrolled 15 subjects (men or women ages 18-70) presenting to the study sites with pneumonia symptomatology and who were planned for outpatient treatment. The initial safety arm of the study was completed successfully and the results were reviewed by the FDA and local Investigational Review Boards, who approved continuation of the study in a second cohort of 60 subjects (men and women ages 18-85). Cohort B subjects received a diagnosis of suspected bacterial pneumonia on presentation to the study sites based on findings of a positive chest x-ray or advanced radiology and clinical signs and symptoms. These findings showed good correlations between the breath test results and the "gold standard" sputum cultures where sputums could be collected successfully. This Phase I trial has provided critical efficacy and safety information for the planning of the pivotal clinical trial for the detection of urease pathogens in patients suspected of Community Acquired Pneumonia and Hospital Associated Pneumonia.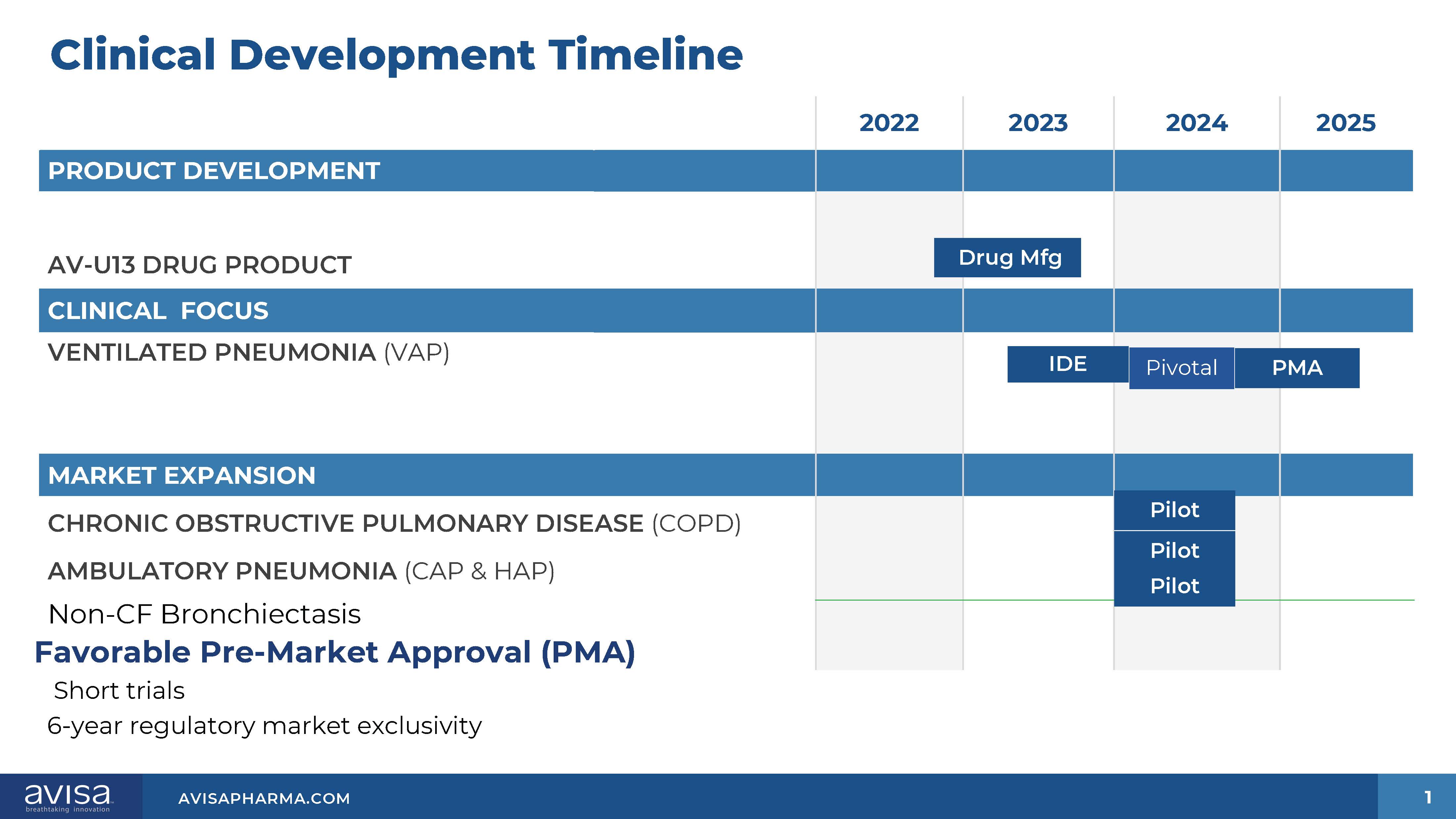 Planned Clinical Studies
Post-COVID-19 Syndrome (Long Haulers): Bronchiectasis is a condition whereby the bronchial tubes are permanently damaged, widened and thickened, allowing bacteria and mucus build up in the lungs. This results in frequent infections and airway blockage. Metadata studies cite 52% of Post-COVID-19 patients are diagnosed with traction bronchiectasis . The ABT has a unique ability to address this emerging problem, prevent exacerbations and positively impact the healthcare system with better health outcomes. Leading pulmonologists are setting up Post-COVID-19 follow-up clinics in major medical centers, similar to exisiting clinics for patients with chronic obstructive pulmonary disorder (COPD). Allora is planning to submit an Investigational Device Exemption (IDE) application to the U.S. Food and Drug Administration (FDA) in the first quarter of 2022 to initiate a pivotal trial in this indication. The trial, if successful, will serve as the basis for submitting a Premarket Approval Application (PMA).
Ventilator Associated Pneumonia (VAP): In the U.S. alone, there are approximately 400,000 cases of VAP annually. Approximately 25% of the 1.7 million intensive care unit (ICU) patients who are on ventilators each year develop VAP. VAP results in extended hospital stays and high mortality; 30-50% of VAP patients die. The ABT provides a quantitative measurement of bacterial load to detect colonization and guide treatment before virulent VAP establishes itself. The ABT can also monitor VAP antibiotic therapy. Allora plans to submit a supplemental IDE application to the FDA to initiate a pivotal trial in VAP in the third quarter of 2022.
Chronic Obstructive Pulmonary Disease (COPD): A study is planned to use the Allora BreathTest to look at urease activity in the lung of COPD patients experiencing exacerbations, and test its utility as a biomarker of respiratory symptoms in these patients. The Allora BreathTest results will be compared with Bronchoalveolar Lavage (BAL) study results. The results of preliminary study of oral urease activity in COPD patients were presented at the 2018 annual American Thoracic Society conference.
Community Acquired and Hospital Associated Pneumonia: Allora is planning a Pivotal Study of the use of the AV BreathTest™ in CAP/HAP patients. The study will focus on understanding the ability of a 13C-urea (AV-U13) breath test to detect urease producing pathogens (Pseudomonas Aerginosa, Methicillin Resistant Staphylcoccus aureus, Klebsiella pneumoniae, Hemophilus influenzae, Acineobacter baumannii, Proteus spp.) in patients with CAP and HAP as confirmed by sputum culture microbiology results. Additional objectives of this study will include the evaluation of the safety and tolerability of the 13C-urea (AV-U13) breath test in patients with pneumonia.
Download Study PDFs